From The Guardian
Reported by Russell Jackson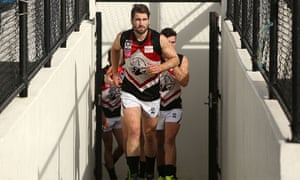 Hardy Melbourne football fans arriving at Frankston Dolphins VFL games from the bayside end of Frankston Park are confronted by a set of towering, ornamental gates, which sit between two imposing stonework pillars. In their first life, these unusual decorative flourishes stood at the front the Old Melbourne Gaol. Now, owing to the various crises of the football club to whom they belong, they're the only prison gates in Melbourne not greeting regular arrivals.
The 2017 VFL season – which kicks off on Saturday with a clash between Gary Ayres' Port Melbourne and the Carlton-affiliated Northern Blues – will for the first time since 1966 not feature a side from Frankston. Last year the competition battlers' licence was revoked by AFL Victoria as debts of a reported $1.5m threatened to sink the club without trace.
For years Frankston had been the league's last true holdouts of the rough and tumble VFA era – a standalone club who refused to cosy up to a big-spending AFL equivalent. Every other team in Victoria's second-tier league is, or at some point has been, aligned to an AFL side and been bolstered by unselected league players each weekend. If you played for Frankston, you played for Frankston alone. The club's motto: "Stand strong, stand tall... Proud to stand alone."
There was a time when such stubborn resistance set the club's players and hardcore fans apart from the rest but last year, upon the 50th anniversary of the Dolphins' first VFA/VFL appearance, only 200 supporters paid the $50 yearly membership fee. Now, those who did cough up have an eerily silent winter ahead and no team to cheer on. A club founded in 1877 and a mainstay of high level football for the last half-century has in the last six months been brought to the brink of extinction.
The full scale of the crisis was confirmed on 30 September last year, when AFL Victoria used AFL grand final week to bury the official statement that the Dolphins would not be given a licence to play in 2017. Two former Frankston stars would play in an AFL premiership a few days later – coached by another ex-Dolphin, Luke Beveridge – but that triumph was bittersweet for Frankston supporters as they confronted the heartbreaking expulsion of their side.
"It sort of felt like I'd lost my family," says Peter "Wombat" Maguire, a diehard Frankston fan who served as the team's property steward in 2015. If there is an archetype of a Dolphins supporter it's Wombat. In the late 1980s, when he was a local boundary umpire, Maguire would join in Frankston's pre-season training runs to stay fit, but in the following decade he was struck down by chronic fatigue syndrome and "dropped off the radar" – in football and life in general.
"Requiring a carer, I was a little bit concerned about what sort of contribution I could make to a football club, but my carer told me the only time I ever had a smile on my face was when I was talking about the Dolphins," Maguire says.
"It took me three or four months to pluck up the courage to go down there, but I had nothing to lose in the end, and as soon as I met [former Dolphins coach] Patty Hill it was like I'd found a brother. He wasn't just making those guys better footballers, he was making them better human beings. It was like having an instant family. I don't have any kids of my own and those guys became the sons I never had." By the end of the season Frankston players had named Maguire the Dolphins' best clubman.
Amid an emotional outpouring from locals, the Dolphins' only VFL premiership coach and former longtime general manager, Bryan Mace, called AFL Victoria's de-registration of the club a "kick in the guts for the local community". The league countered that an interim group of Frankston administrators had not provided "sufficient confidence in the viability of the club in 2017".
"Frankston has had a rich history of providing a pathway and opportunities for footballers in the region, but without the necessary off-field structures in place, AFL Victoria was not confident financial projections provided could be met," AFL Victoria CEO Steven Reaper told News Limited at the time.
Among the great losers have been that group of beleaguered players, and the coaches who had worked tirelessly to maintain morale and keep the club afloat in the face of long odds. The Dolphins' last 20 wins were spread across eight trying seasons. They lost all 18 games in 2015 and then went 2-16 in 2016. As if to prove they were doomed, their final season featured eight losses in which they had led in the final quarter. Frankston Park's picturesque backdrop of palm trees and a sun-dappled beach had never been more misleading.
The on-field troubles were not for lack of trying on behalf of the club's last four coaches – Brett Lovett, Simon Goosey, Shannon Grant and Patrick Hill. A remit to develop players overlooked by AFL clubs for rookie list spots and those who perhaps didn't or couldn't put their best forward in the TAC Cup Under-18 competition had unearthed plenty of gems, but each year's list tended to be padded out by local area players testing themselves at a higher level. The Dolphins could have been renamed The Leftovers.
The real problem was matching it week-in, week-out, with the top-tier talent, physicality and endurance capacities of AFL-listed players spread through the rest of the league. Popular coaches both, Lovett and Goosey's respective departures led to a mass exodus of senior players. When 2015-16 coach Hill arrived, his list of 66 players boasted a combined total of only 400 games of VFL experience – 200 of them shared between three players.
Yet the club's recruitment work and the accelerated path of development for senior players led to a more welcome talent drain: those who were thrown in the deep end for the Dolphins and thrived often found themselves headed for the big-time. Mature-age AFL recruits who came to attention at Frankston include Michael Hibberd, Matthew Boyd, Mark Baguley, Sam Lloyd, Tory Dickson and James Magner. In Chris Bryan, the club can also claim to have produced an NFL player. 
The timing of Frankston's money troubles stung. By the end of 2016, Hill had finally given enough games to several key contributors to ensure that serious progress was due in seasons following, but by then his loyal and dedicated band of players and staff knew their club was in dire straits. Death was all around, never more grimly poignant than the week in 2016 that the Dolphins' stalwart timekeeper and life member Martin "Junior" Heagney died. Heagney had banked 659 games in the kind of thankless volunteer role that is the lifeblood of clubs like Frankston.
Told by Hill before their final game of the season that the club had been placed in voluntary administration, Frankston's players lost in bleakly fitting style; surrendering the lead in the final two minutes at far-flung North Ballarat, in front of only a handful of their own fans. Aware of what the club still meant to its small membership base, a principled group of players then forewent the opportunity to liquidate the Dolphins immediately and guarantee their pay, sparing the club outright indignity. Those players remain on the list of unpaid creditors.
They were taking the lead of their coach. For the club's final two years Hill was Australia Post's Mount Waverley delivery centre manager by day and a football coach by night, pulling 90-hour weeks in charge of a combined total of 210 people to fulfil his footy dream. He speaks of his former Dolphins players with affection.
"I was really proud of the guys for what they achieved in those two years," Hill says. "From the outside looking in it might not seem like we achieved a lot, but we were able to match it with some of the best teams in the country, week in week out. We didn't get the points but that's not what life's about – it's about competing and being the best you can be.
"None of those players complained," says Peter Maguire. "It was a real experience to be part of, but really beautiful at the same time. I'd never seen a club lose a licence like that, and it was the way it was done that really got to me. Frankston is a community."
Hill will spend the next two seasons coaching the Box Hill women's team, and follows from afar the progress of the 14 players who moved onto new VFL homes with his assistance. "It was probably worse for the fans," he says. "That's their club, isn't it? I'm a signed up member this year and I'll always support Frankston. But for life members, supporters and staff, it was the end of their club. No club should ever go under. That was a big reason why the players voted to keep the club going. They wanted the club to survive, which shows the quality of those young men.
"The Frankston football club means a lot to a lot of people, and it does a lot for a lot of people. Not only are the players elite sportspeople, they lead an elite lifestyle. We need role models in our society, and Frankston needs role models. It's not a high socio-economic area. It needs people to look up to and we need to invest in that and invest in young men who are doing the right thing. If people are considering a membership, if we can get the team back in Frankston it would mean the world to the community."
The club's financial woes were many and varied, but related primarily to debt accrued via the club's failing attempt to turn its social club area into a pokies venue – a supposed money-spinner that was actually losing them a reported $2,000 per week, perhaps more.
A tad shabby and plonked in the middle of the construction zone for a newer, grander social club, the pokies venue simply didn't appeal to patrons from the better-equipped Grand Hotel, barely 200 metres away. The bigger problem was the introduction of the bidding system for gaming licences, which saw many clubs like Frankston spooked into significantly overpaying to retain their machines rather than risking them in an auction scenario.
But there still remained wiggle room for the club to return in 2018. Stepping into that space in the wake of AFL Victoria's decision was local state Labor MP Paul Edbrooke, who said "losing the Dolphins was not an option", had 90% of the club's reported $500,000 debt to the state government waived and started an online petition to save the local team. Frankston City council also agreed to write off a $50,000 debt.
Edbrooke's federal Liberal party equivalent Chris Crewther, the local member for Dunkley, booked an immediate appointment with AFL administrators, lobbying on the club's behalf and setting up both a crowdfunding page and a steering committee of local business and community leaders – including Frankston's 1984 Liston Medal winner Peter Geddes. "It's a high priority for me that the club gets it's VFL licence back," Crewther says. "If AFL Victoria stick to the parameters they've set, I think the club is in good stead to get the licence back."
Dolphins fans seeking divine intervention have never had to look further than St Paul's Anglican Church, which sits nestled in the left forward pocket at Frankston Park, but influential help in their fight has come from more practical sources: fresh from the Bulldogs' premiership triumph, former Dolphins assistant coach Beveridge was a quiet but influential ally behind the scenes. Fellow premiership coaches Leigh Matthews and John Longmire will appear at fundraisers, all part of the attempts of Geddes and a fresh nine-person board to revive the club.
The $1.5m debt is now down to $410,000 and the club hopes it will be paid off within a four-year plan to wipe the slate clean. In truth, AFL Victoria have a vested interest in the Dolphins making a successful return because the club is a central pillar of the entire south-eastern region, which boasts one of the richest participation bases in the state and a thriving regional football scene.
Looming largest in Frankston's recovery mission is former Hawthorn president and saviour Ian Dicker, who lives a suburb along in Mount Eliza and was shocked by the club's struggle when he picked up the local paper. Days later Dicker walked into a club crisis meeting unannounced and offered his expertise, telling attendees the region was crucial to the health of Victorian football.
"Not to have an elite team on the Peninsula is detrimental to the AFL's talent pathway," says new Dolphins general manager Gary Buckenara, the four-time Hawthorn premiership hero who Dicker brought in to help the club find a lasting way forward.
"Ian is a very passionate person," Buckenara says. "This is typical of him. When he heard about the plight of the Frankston football club he just turned up, and from that moment a lot of people took a lot of heart from the fact that someone like Ian would take an interest in the club and see the importance of it."
Why and to what degree members of the local community should care about Frankston's troubles are the questions coming at Buckenara like long bombs inside 50. In his big-time playing days at the Hawks, Buckenara knew only glory and success as a key contributor to the club's 1980s golden era. Now he has a shade under 90 days to turn Victorian football's basket case into a viable and sustainable business, while plotting the club's on-field return.
June 30 is the date by which Buckenara and Frankston's new board needs to show AFL Victoria that the club is an ongoing concern, and 1,000 is the membership number the former Hawk has in mind to impress them. The Dolphins have only just passed the 300 mark, though for perspective, no other club in the league has more than 700.
Helping Buckenara to that end is another Dicker appointee, membership consultant David Friend, who combined with the former Hawthorn president to save the Hawks during their mid-90s merger crisis. "We've got to prove to the AFL that we're capable of sustaining the side," Buckenara says. "That is financially, but also in terms of governance, compliance, having a football plan in place for a competitive side, and also sponsorship."
On the agenda now are naming rights to Frankston Park, the possibility of improved lights being installed to make the ground suitable for night games, and a long range goal to have it fit for hosting AFLW games. Buckenara also hopes to increase the amount of functions hosted in the well-appointed social club – now free of gaming machines.
The on-field plan for 2018 and beyond provides plenty of challenges. "We think there is enough talent here on the peninsula," Buckenara says. "We have enough young talent coming through – guys who have just missed out on the draft." The club will also target the 14 former Frankston players currently on the lists of other VFL clubs. Should any of them stay at their 2017 home, Frankston will be paid transfer fees from those clubs in 2018.
What Frankston really needs is for at least one-third of the 3,000 people who signed Edbrooke's petition to do one far more important thing: reach into their pockets for a $50 note and become members. "There was a lot of emotion around the petition," Buckenara says, "but now that's sort of died off. The memberships are what is going to help us.
"It is expensive to play at the elite level of football. We're the level below AFL. Not to have that second tier is harmful to the pathway for players, but it's also expensive to run a tier two club. If there is to be an elite level of football, we need corporate and community support to fund it, and it's not just about football, it's about the local community."
Dolphins fan Peter Maguire says he's relieved that things are looking up. "I became so much better a human because of being involved with those boys and that group of coaches," he says. "That's what I'm missing more than anything else: the family environment those boys created. It's not just about getting better at football, it's about getting better as people."
Hill has an equally idealistic take on the proposition currently being put to Frankston locals, and says it's about priorities. "Money comes and goes, but footy clubs should be for life."