From The Guardian
Reported by Russell Jackson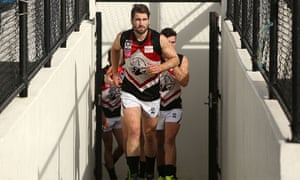 Hardy Melbourne football fans arriving at Frankston Dolphins VFL games from the bayside end of Frankston Park are confronted by a set of towering, ornamental gates, which sit between two imposing stonework pillars. In their first life, these unusual decorative flourishes stood at the front the Old Melbourne Gaol. Now, owing to the various crises of the football club to whom they belong, they're the only prison gates in Melbourne not greeting regular arrivals.
The 2017 VFL season – which kicks off on Saturday with a clash between Gary Ayres' Port Melbourne and the Carlton-affiliated Northern Blues – will for the first time since 1966 not feature a side from Frankston. Last year the competition battlers' licence was revoked by AFL Victoria as debts of a reported $1.5m threatened to sink the club without trace.
For years Frankston had been the league's last true holdouts of the rough and tumble VFA era – a standalone club who refused to cosy up to a big-spending AFL equivalent. Every other team in Victoria's second-tier league is, or at some point has been, aligned to an AFL side and been bolstered by unselected league players each weekend. If you played for Frankston, you played for Frankston alone. The club's motto: "Stand strong, stand tall... Proud to stand alone."
There was a time when such stubborn resistance set the club's players and hardcore fans apart from the rest but last year, upon the 50th anniversary of the Dolphins' first VFA/VFL appearance, only 200 supporters paid the $50 yearly membership fee. Now, those who did cough up have an eerily silent winter ahead and no team to cheer on. A club founded in 1877 and a mainstay of high level football for the last half-century has in the last six months been brought to the brink of extinction.
The full scale of the crisis was confirmed on 30 September last year, when AFL Victoria used AFL grand final week to bury the official statement that the Dolphins would not be given a licence to play in 2017. Two former Frankston stars would play in an AFL premiership a few days later – coached by another ex-Dolphin, Luke Beveridge – but that triumph was bittersweet for Frankston supporters as they confronted the heartbreaking expulsion of their side.