From the official AFL website. - http.://afl.com.au
50 players in the frame
Rucks
Jack Blair – North Adelaide (SANFL)
26yo, 206cm, 108kg 
Rugby convert who won a flag with AFL Sydney club UNSW-Eastern Bulldogs before training with the Swans leading up to last year's drafts.
Corey Gault – Swan Districts (WAFL)
26yo, 200cm, 100kg
Three years since he was last on Collingwood's AFL list, looms as a readymade forward/ruck option. 
Corey Gault, shown on debut for Collingwood in 2015, shapes as a readymade choice. Picture: AFL Photos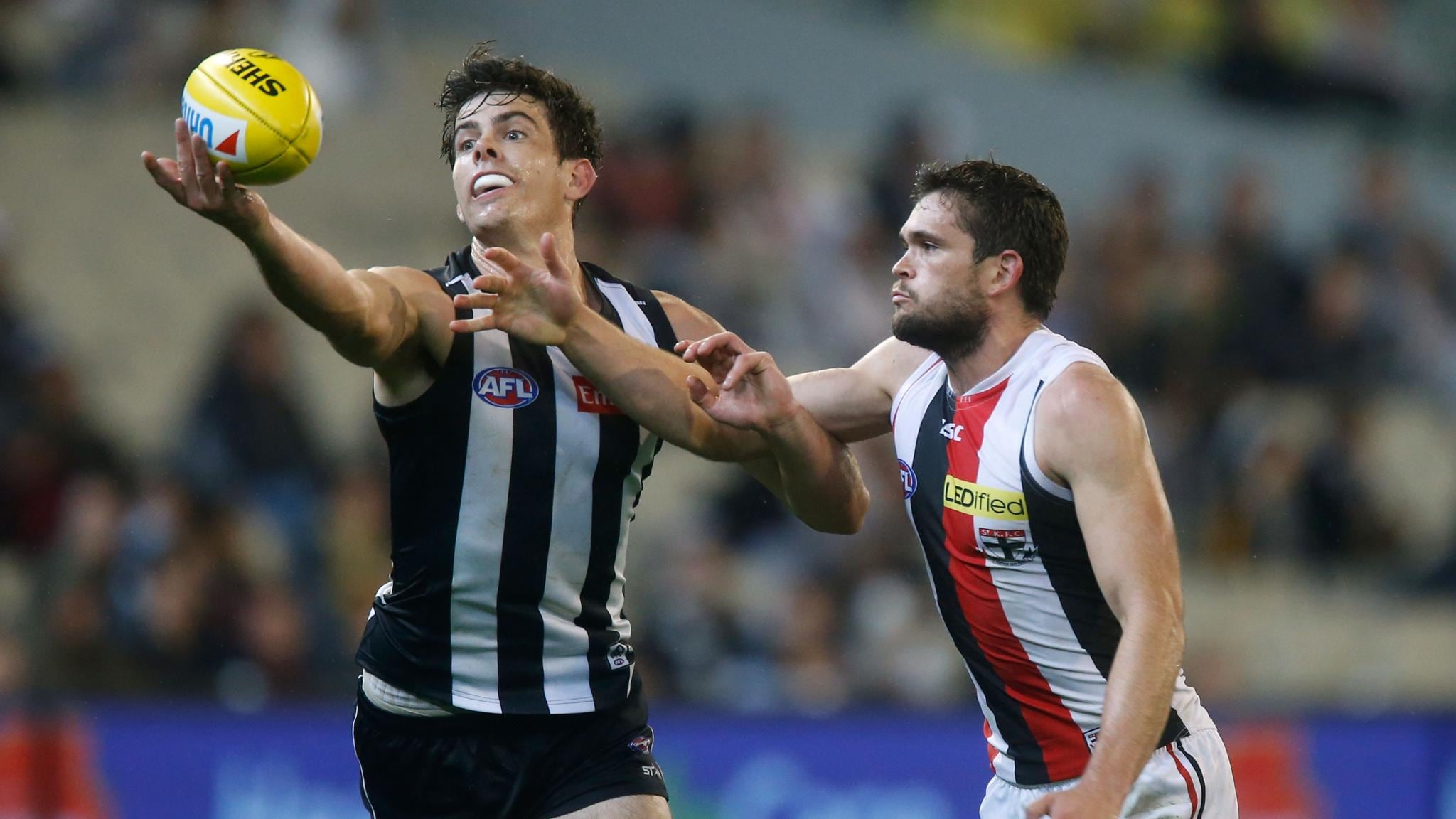 Jeremy Goddard – Claremont (WAFL)
21yo, 202cm, 95kg
Played alongside Tim English in WA's under-18 team three years ago and had 68 hitouts from his opening two WAFL matches this season.  
Michael Knoll – South Adelaide (SANFL)
25yo, 205m, 100kg
Crossed from Box Hill. Former basketballer who replaced Keegan Brooksby and Hayden McLean on South Adelaide's list.  
Midfielders 
Frank Anderson – Northern Blues (VFL)
21yo, 186cm, 83kg 
Attended a state screening in 2018 and has made the step up this year from Eastern Football League club South Croydon.
Josh Clayton – Werribee (VFL)
23yo, 191cm, 87kg
Tall midfielder who played two games for Brisbane before starring in the NEAFL for Southport last year then moving home to Victoria. 
Jye Bolton – Claremont (WAFL)
27yo, 187cm, 84kg
Fresh off his second Sandover Medal as the WAFL's best and fairest, the former Pie has averaged 36 disposals to start 2019.
Jye Bolton has been the WAFL's dominant player in recent years. 
Josh Deluca – Subiaco (WAFL)
22yo, 179cm, 80kg
Former Docker starred in last year's Subiaco premiership with 29 disposals and has led the way for the Lions to start 2019. 
Sam Fisher – Northern Blues (VFL)
21yo, 181cm, 78kg
Former Sydney rookie with some dash. Was invited to train with Carlton's AFL pre-season group ahead of last year's Rookie Draft. 
Nathan Freeman – Frankston (VFL)
23yo, 183cm, 85kg
Delisted by St Kilda at the end of 2018, Freeman had interest from Gold Coast before moving to the VFL where he has dominated in his first two games.  
Nathan Freeman finally made his debut near the end of 2018, only to be delisted soon after.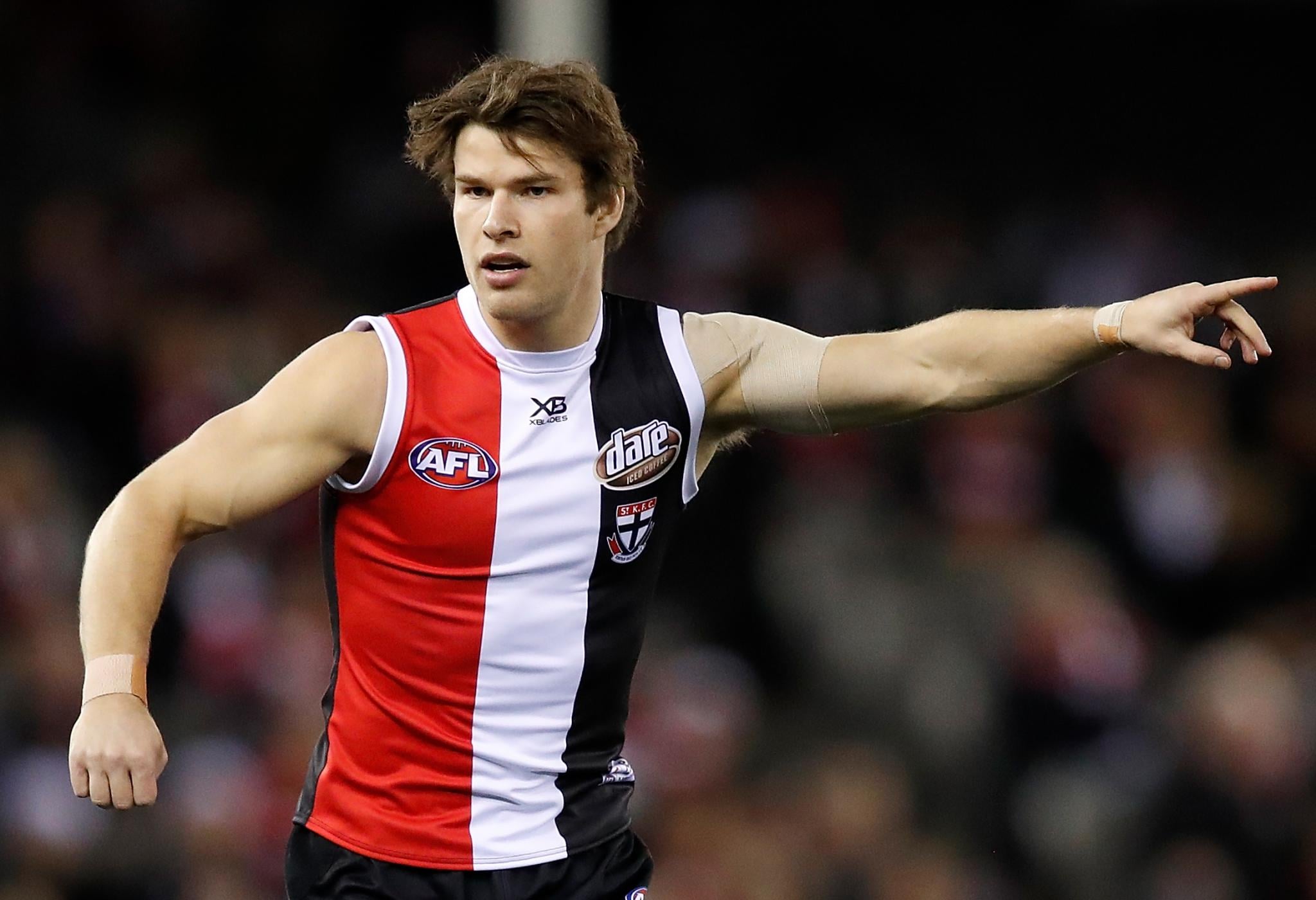 Matt Hanson – Werribee (VFL)
23yo, 187cm, 81kg 
A foot issue ruined his 2018 season, but this super-fit onballer is big and strong and in the mould of Geelong's Sam Menegola.
Mitch Hibberd – Williamstown (VFL)
22yo, 191cm, 90kg
The ex-Kangaroo boasts elite endurance and is showing promise in his new role as an inside midfielder after previously being used mostly as a defender or wingman.
Cody Hirst – Eastern Ranges (TAC Cup)
19yo, 180cm, 67kg
Given a second chance as an over-age player at the Ranges, the youngster with pace to burn was in conversations last season as a speculative rookie selection and has been named in this year's Vic Metro squad. 
Cody Hirst is playing in the NAB League as an over-ager. Picture: AFL Photos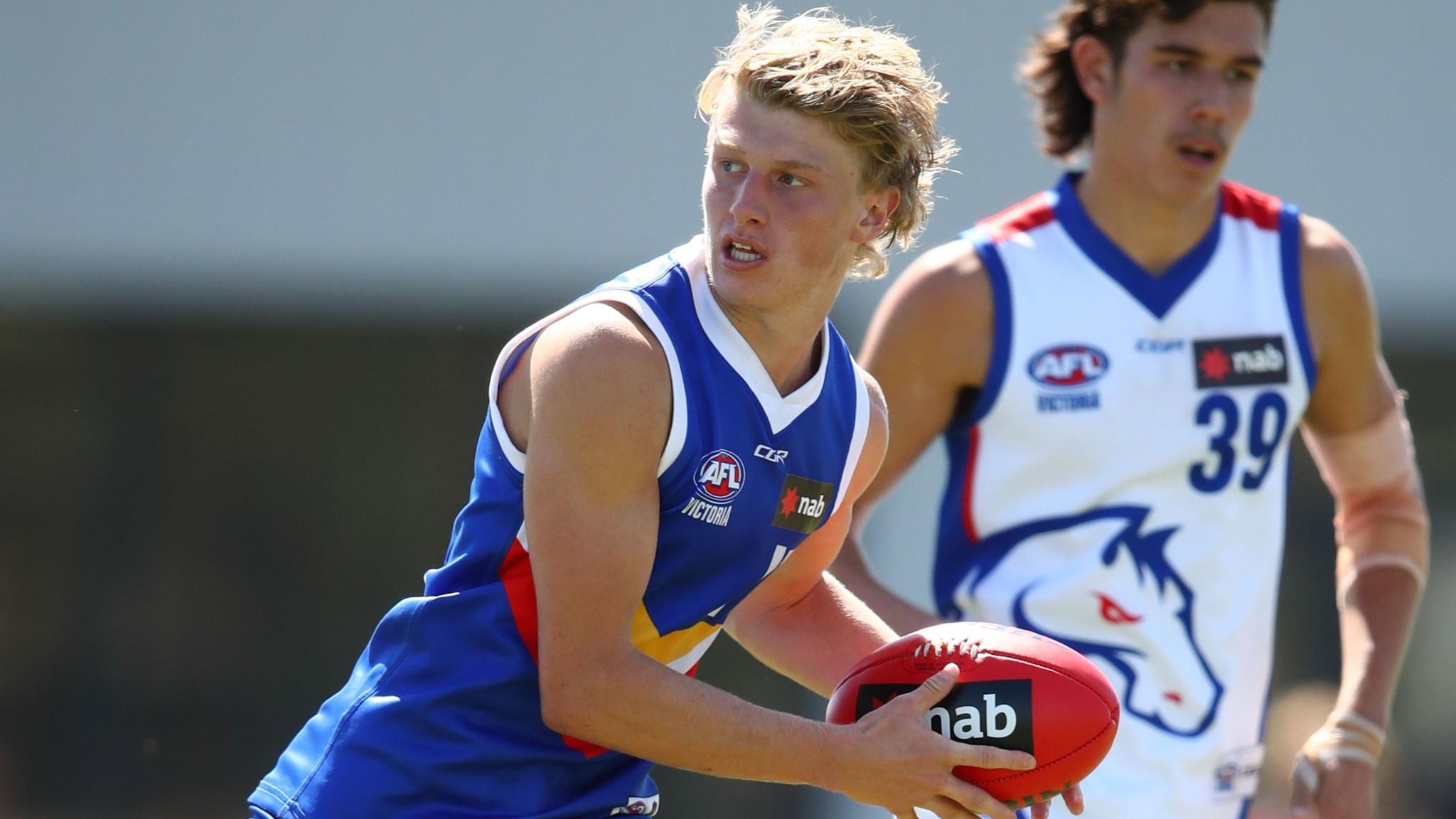 Tristan Hobley – Subiaco (WAFL)
18yo, 182cm, 74kg 
This ball magnet was best afield in last year's WAFL Colts Grand Final and considered unlucky not to find an AFL home. Has admirers.
Campbell Hustwaite – Collingwood (VFL)
18yo, 184cm, 78kg
Co-captain of Dandenong's under-18 side last year, has crossed to Collingwood's VFL outfit after being overlooked as a rookie selection. 
Campbell Hustwaite in action during last year's TAC Cup Grand Final.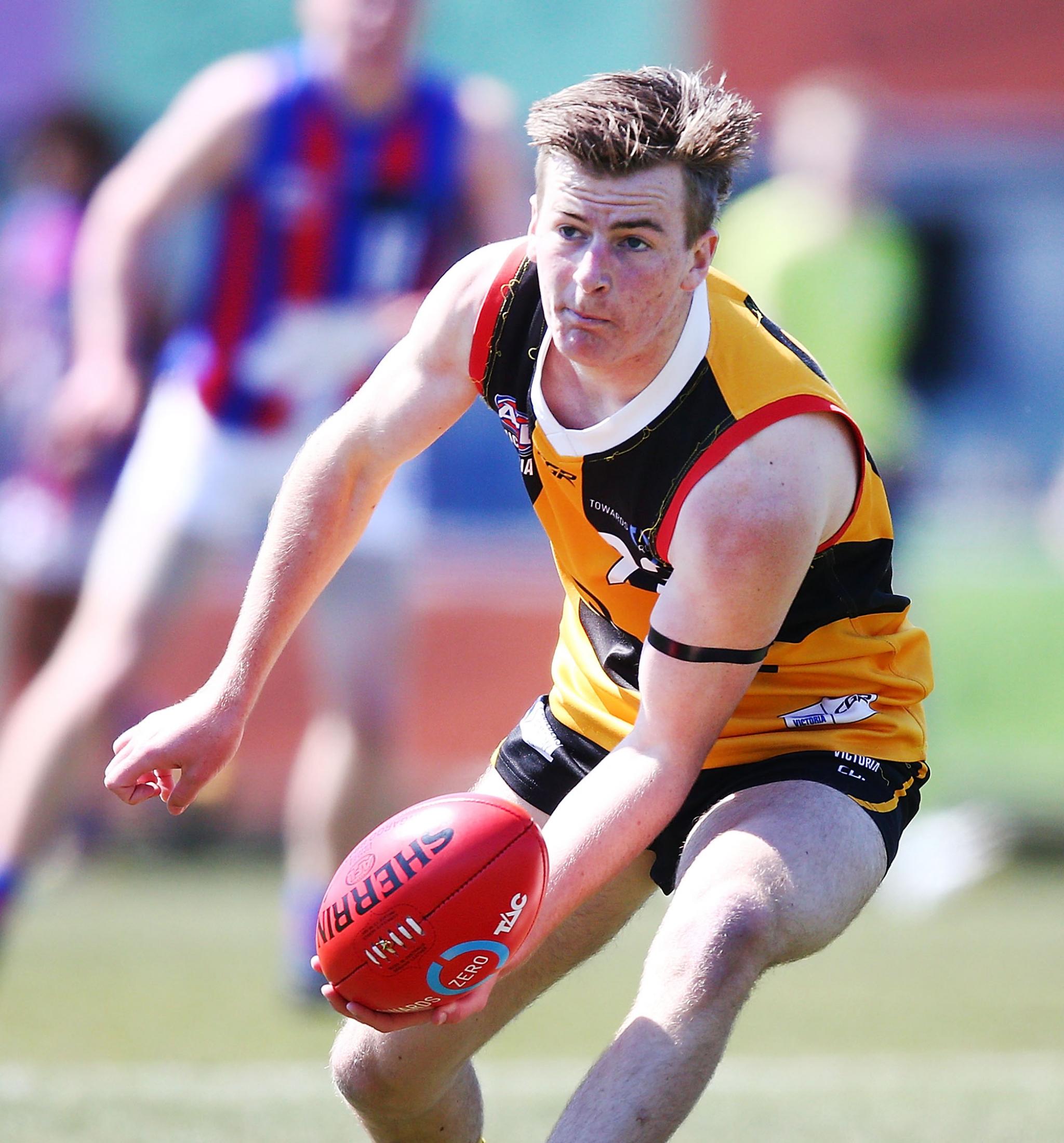 Marcus Lentini – Coburg (VFL)
19yo, 184cm, 79kg
Accumulates the ball at will in the VFL. Could he become a Ben Cavarra type that clubs just can't continue to ignore?
Mitch Maguire – Canberra (NEAFL)
20yo, 176cm, 80kg 
The NEAFL's reigning Rising Star recipient may be small but packs a punch in the clinches. Trained with Sydney before last year's drafts.
Michael Manteit – Southport (NEAFL)
22yo, 189cm, 85kg 
The former rookie-listed Magpie claimed the Sharks' best and fairest in their premiership-winning 2018 campaign and made the NEAFL Team of the Year.
Damian Mascitti – Box Hill (VFL)
26yo, 190cm, 86kg
His blistering elimination final for Port Melbourne against Box Hill last year, where he kicked four goals among 26 disposals, convinced the VFL Hawks to recruit him.
Damian Mascitti's exploits for Port Melbourne took him to Box Hill. Picture: AFL Photos
Luke Meadows – Box Hill (VFL)
24yo, 186cm, 85kg 
Graduated in recent seasons from a half-back to a fully fledged midfielder, and showed in Hawthorn's intraclub match he can cut it with AFL players.
Luke Meadows emerged as an AFL prospect in the WAFL last year.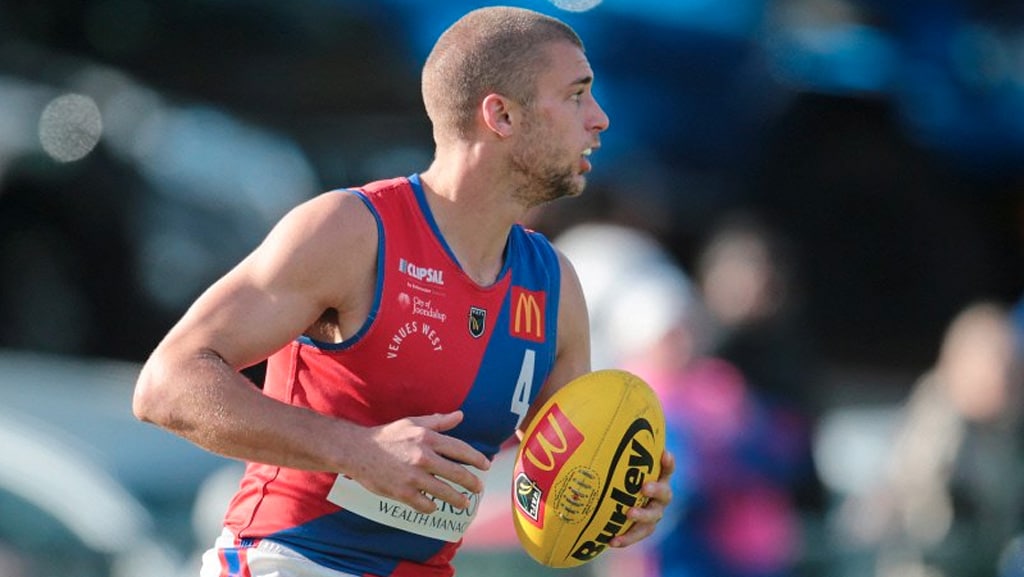 Marlion Pickett – South Fremantle (WAFL)
27yo, 184cm, 84kg
Genuine interest from Gold Coast last year before he was overlooked. Could a 10-week contract appeal for the WAFL's Tim Kelly 2.0?
Mitch Riordan – Dandenong (TAC Cup)
19yo, 187cm, 82kg
Speedy onballer has returned as an over-age player after testing at last year's State Combine despite a year ravaged by injury. 
Mackenzie Willis – Southport (NEAFL)
23yo, 182cm, 82kg
Cut from Gold Coast after rupturing an ACL, but has made an outstanding start to the 2019 NEAFL season.
An ACL injury saw him leave the Suns, but Mackenzie Willis has been great in 2019. Picture: AFL Photos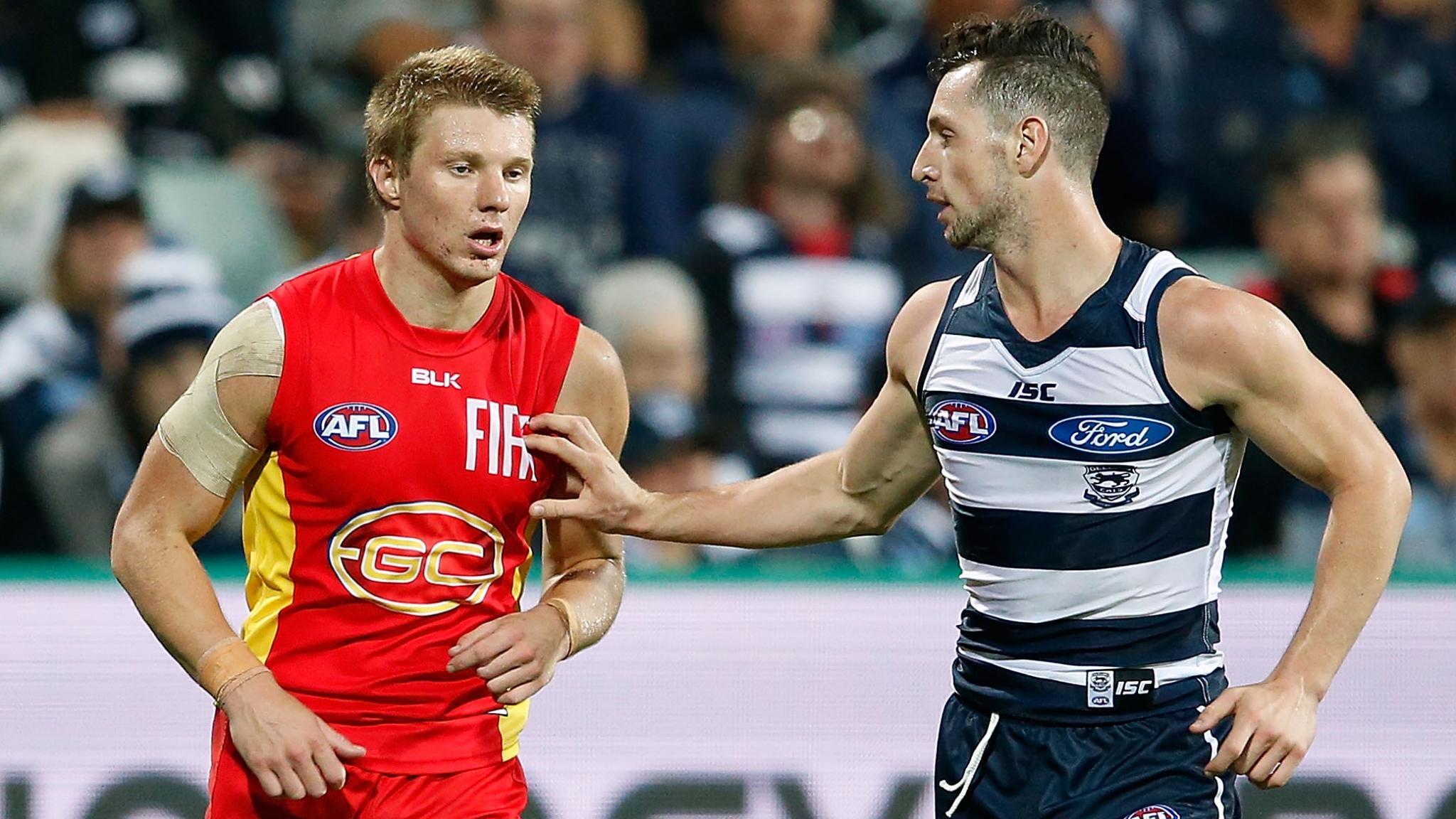 Tom Wilson – Northern Blues (VFL)
27yo, 176cm, 76kg
What the Blues skipper lacks in height, he makes up for in aggression at the contest. Claimed third club best and fairest last season.
Tom Wilson has made his name at the Northern Blues. Picture: AFL Photos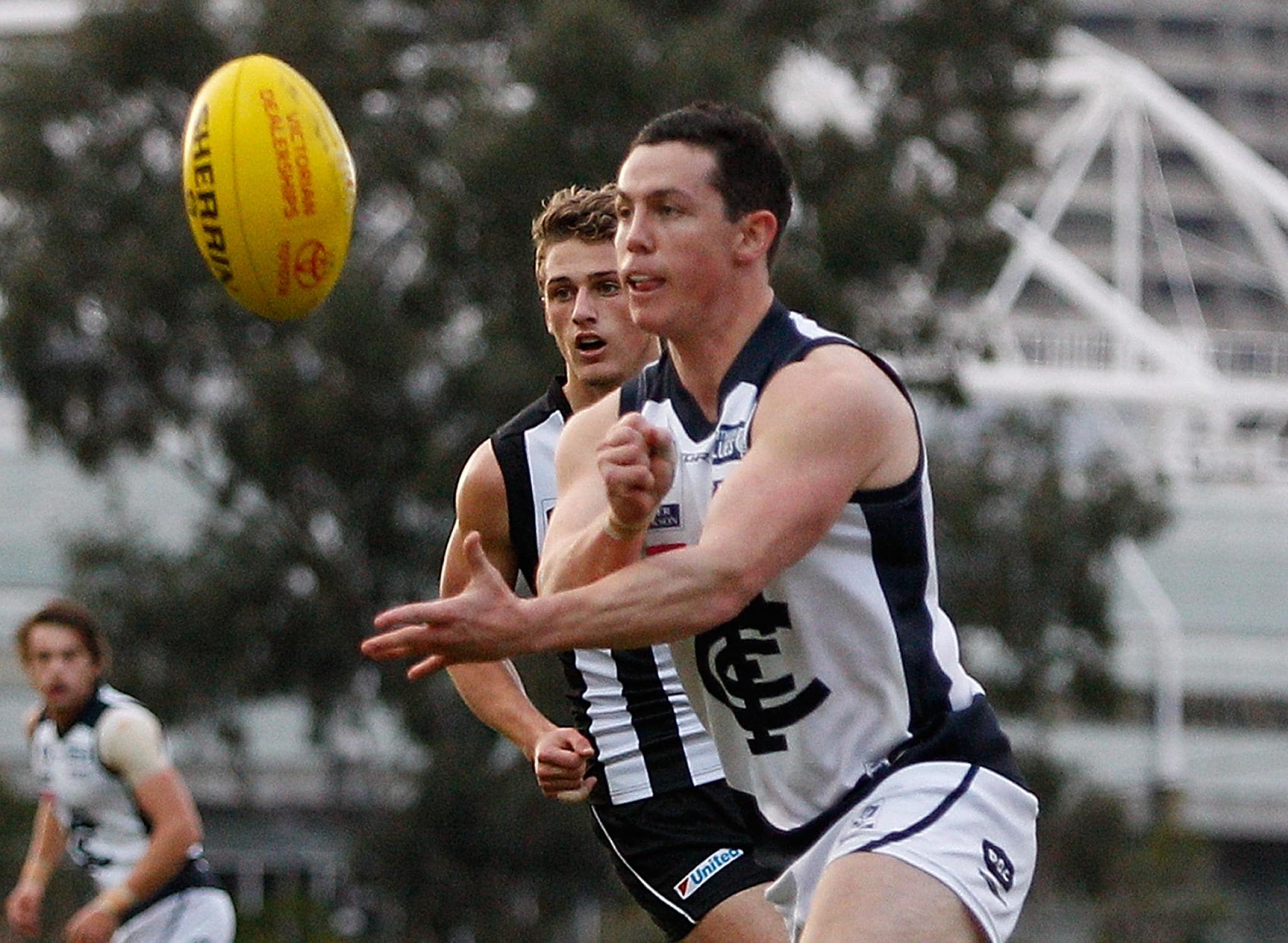 Key forwards
Ryan Gardner – Footscray (VFL)
21yo, 197cm, 93kg
The defender-turned-forward has managed six goals from his opening two matches of 2019 after being cut by Geelong at the end of last season.
Will Kennedy – Western Jets (TAC Cup)
18yo, 198cm, 88kg
Moving from Sandringham to Western Jets as an over-age player, could provide an option for a club for a future key-position prospect. 
Liam McBean – Glenelg (SANFL)
23yo, 202cm, 98kg
Made recruiters stand up and take notice with a bag of nine against Adelaide's SANFL side last week, just his second game back after a year travelling. 
Former Tiger Liam McBean has made an instant impact in his return to footy. Picture: AFL Photos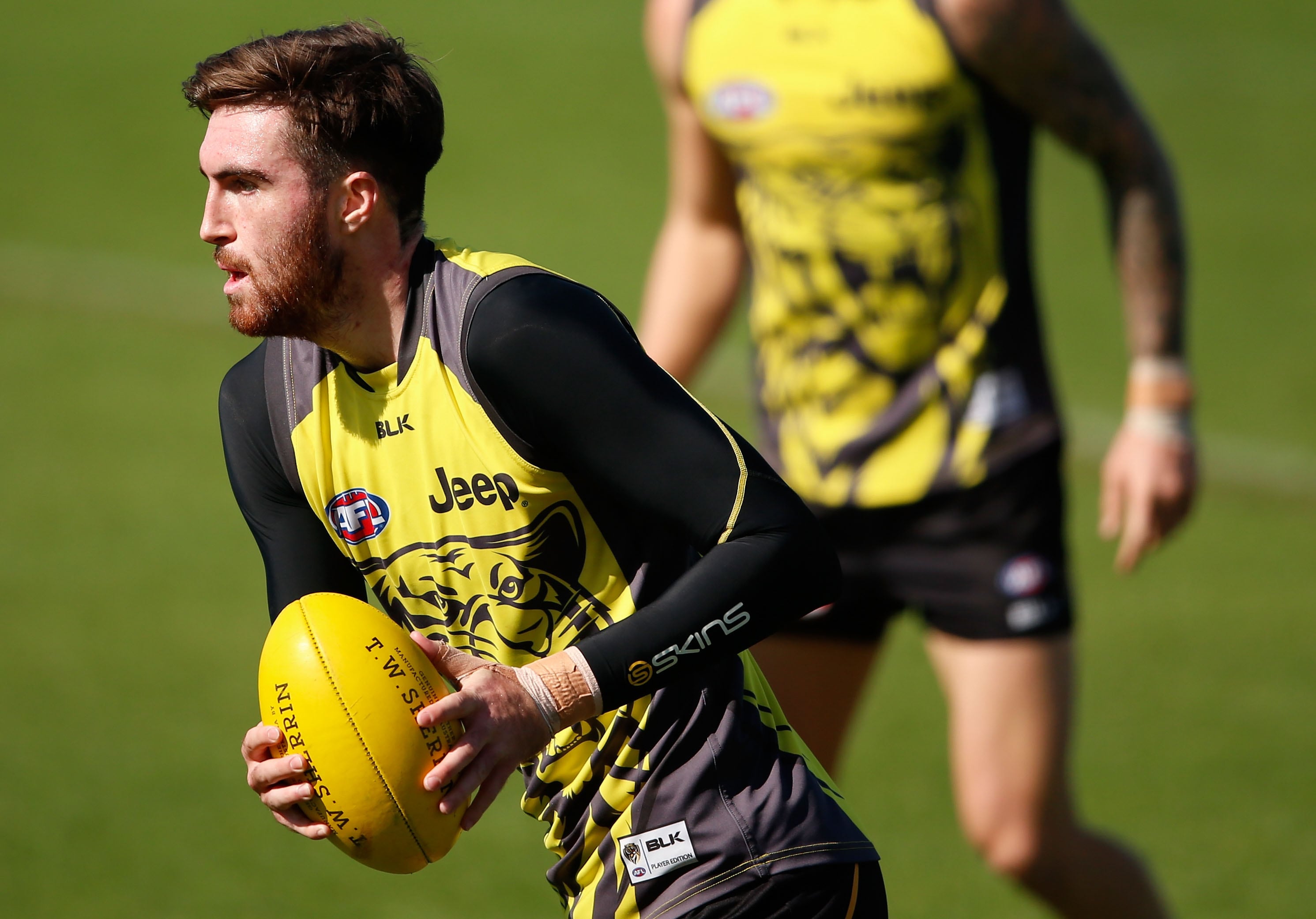 Nathan Mullenger-McHugh – Box Hill (VFL)
21yo, 196cm, 88kg
Straight from the Western Bulldogs to the Hawks' leadership group. Will continue to develop as a key position player. 
Hugo Munn – Sturt (SANFL)
19yo, 197cm, 91kg 
About a dozen AFL clubs spoke to the talented teenager last year and he is exactly the type of player who could thrive in an elite system.
Dillon O'Reilly – East Fremantle (WAFL)
18yo, 193cm, 79kg
Son of former Cat, Docker and Blue Stephen, Dillon presents as a third forward option after playing for WA's under-18 outfit last year.
Dillon O'Reilly hopes to follow in the footsteps of his father. Picture: AFL Photos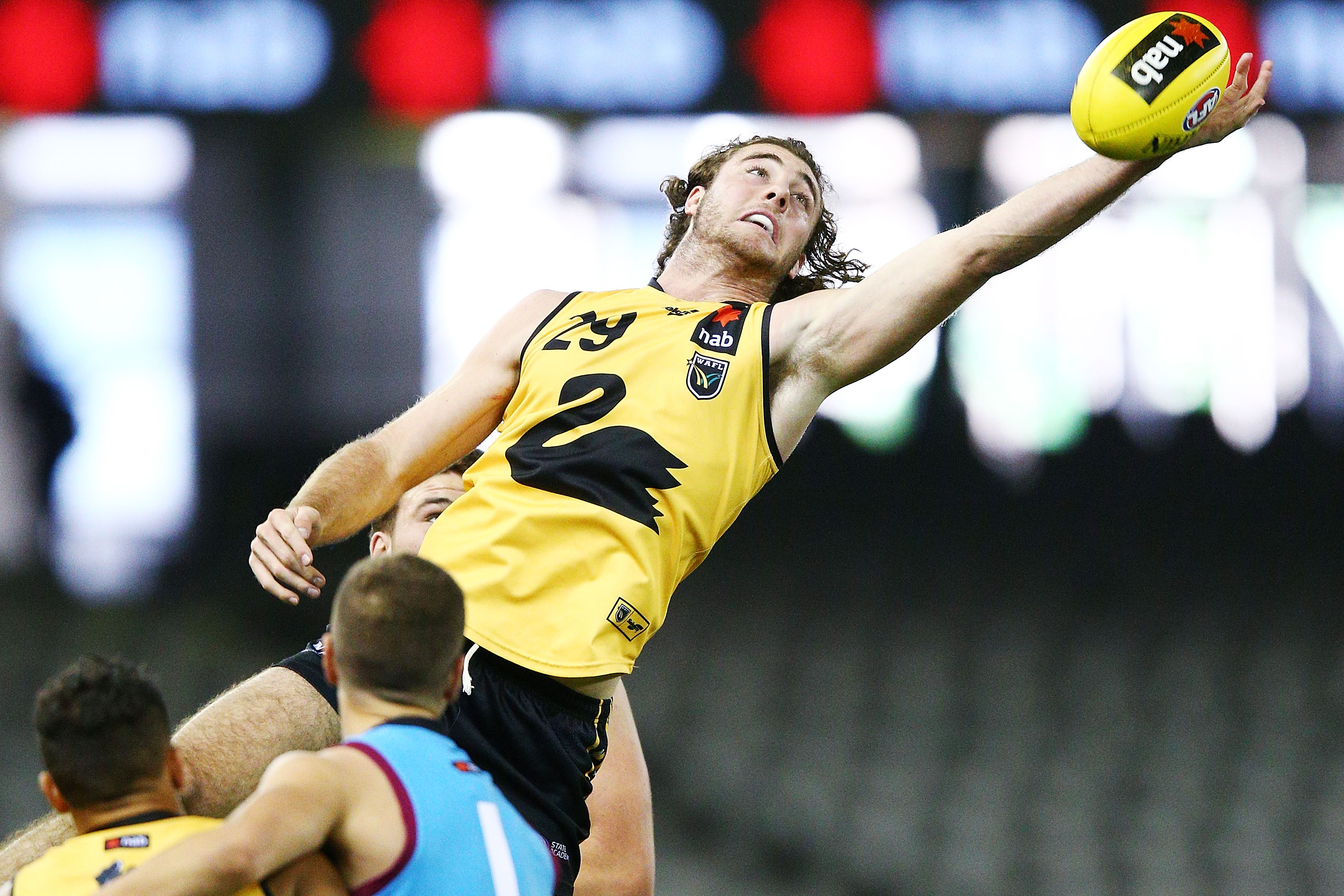 Luke Surman – Norwood (SANFL)
21yo, 196cm, 111kg
Was on Hawthorn's list, but quit in May 2017 after losing his passion for footy. The Jon Patton-type has matured and wants another shot.
Key defenders 
Aaron Black – Geelong (VFL)
28yo, 192cm, 85kg
Impressed as a key defender at AFL level last year before he was delisted following a ruptured ACL. First game back in the VFL last week and could be a smokey.
Sam McLarty – Williamstown (VFL)
20yo, 198cm, 96kg
Cut from the Pies after two seasons, trialled at Sydney on the eve of the SSP closure before being overlooked in favour of Hayden McLean. 
Ex-Pie Sam McLarty hasn't given up on his AFL dream. Picture: AFL Photos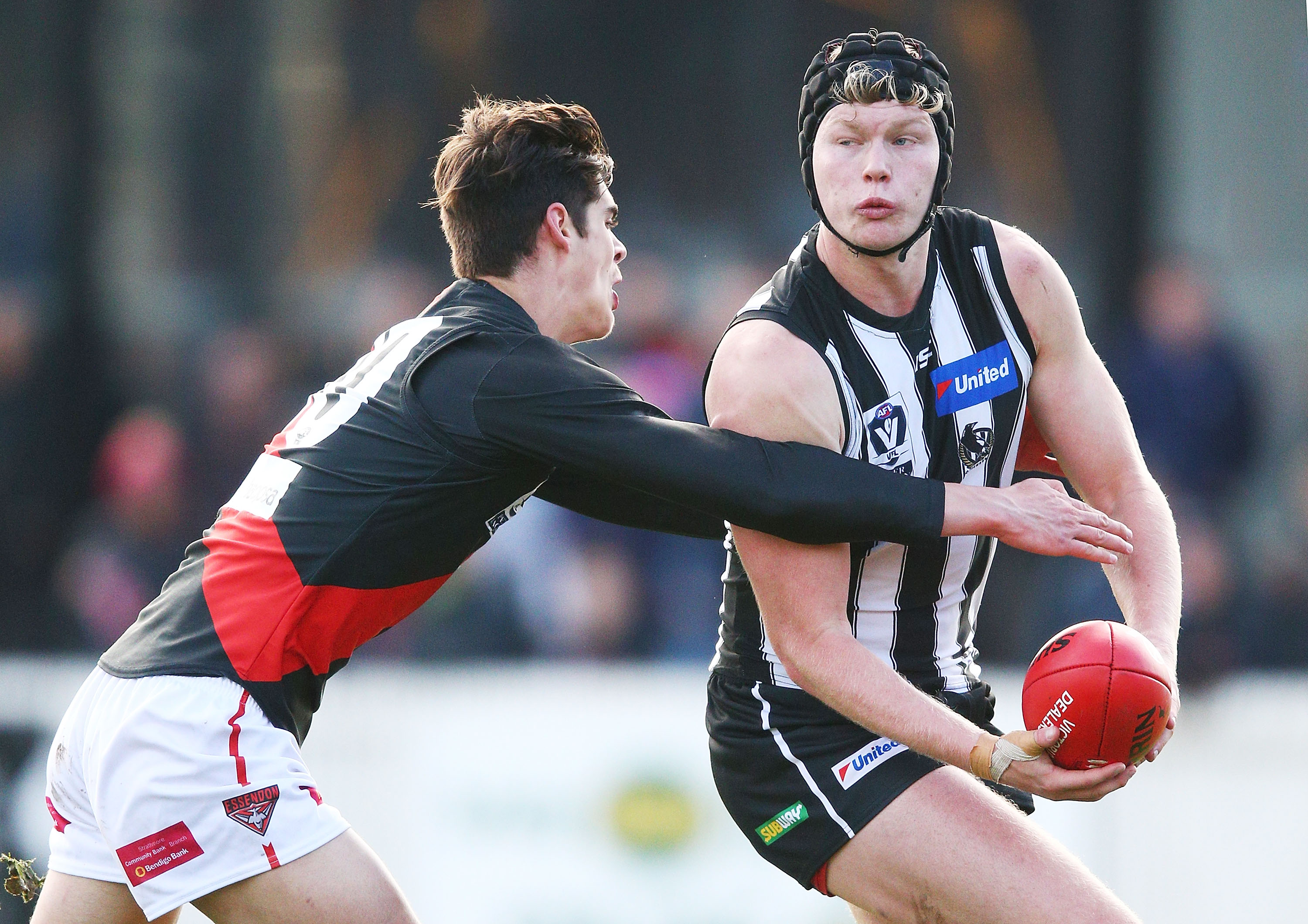 Harry Nolan – Coburg (VFL)
19yo, 195cm, 94kg
Has garnered interest as an athletic key defender who has done the job on AFL-listed players in the VFL. Strong endurance.
Michael Talia – Norwood (SANFL)
26yo, 194cm, 93kg
Has matured after he was best remembered for off-field incidents in his last stint as an AFL player at Sydney. Still takes the No.1 forward at SANFL level. 
General forwards
Cole Gerloff – Norwood (SANFL)
19yo, 185cm, 82kg 
Has trimmed down in response to queries about his lack of pace and is showing promise in a high half-forward role.
Cory Gregson – Glenelg (SANFL)
22yo, 175cm, 78kg
Finally over the foot woes that hampered his four-year, 39-game stint at Geelong and has returned to his junior club ready for a second chance.
Ex-Cat Cory Gregson appears to be injury-free at last. Picture: AFL Photos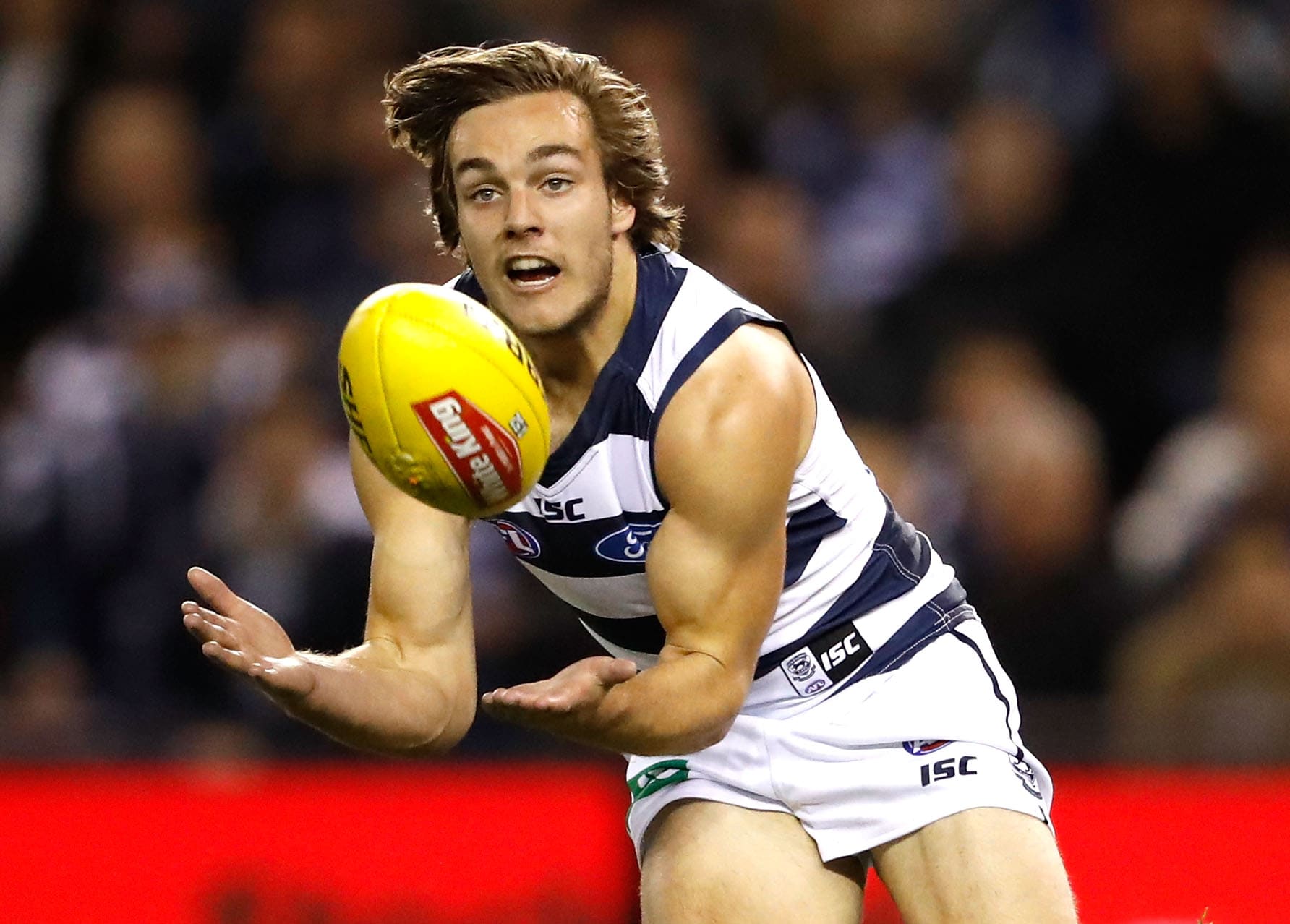 Ben Kennedy – Williamstown (VFL)
25yo, 176cm, 81kg 
Played mostly as a midfielder for Collingwood and Melbourne, but has transformed into a goalsneak after Ben Cavarra and Lachie Schultz were drafted last year.
Sam Lowson – Coburg (VFL) 
23yo, 182cm, 84kg 
Is creating some AFL buzz thanks to his goalkicking nous and trademark defensive pressure after rising from the now-defunct VFL development league.
Corey Rich – Frankston (VFL)
22yo, 183cm, 83kg
Rich booted six goals in last year's Young Guns game and hasn't stopped impacting the scoreboard. Also getting some midfield minutes.
Corey Rich is a goalkicker who's getting more midfield time. Picture: AFL Photos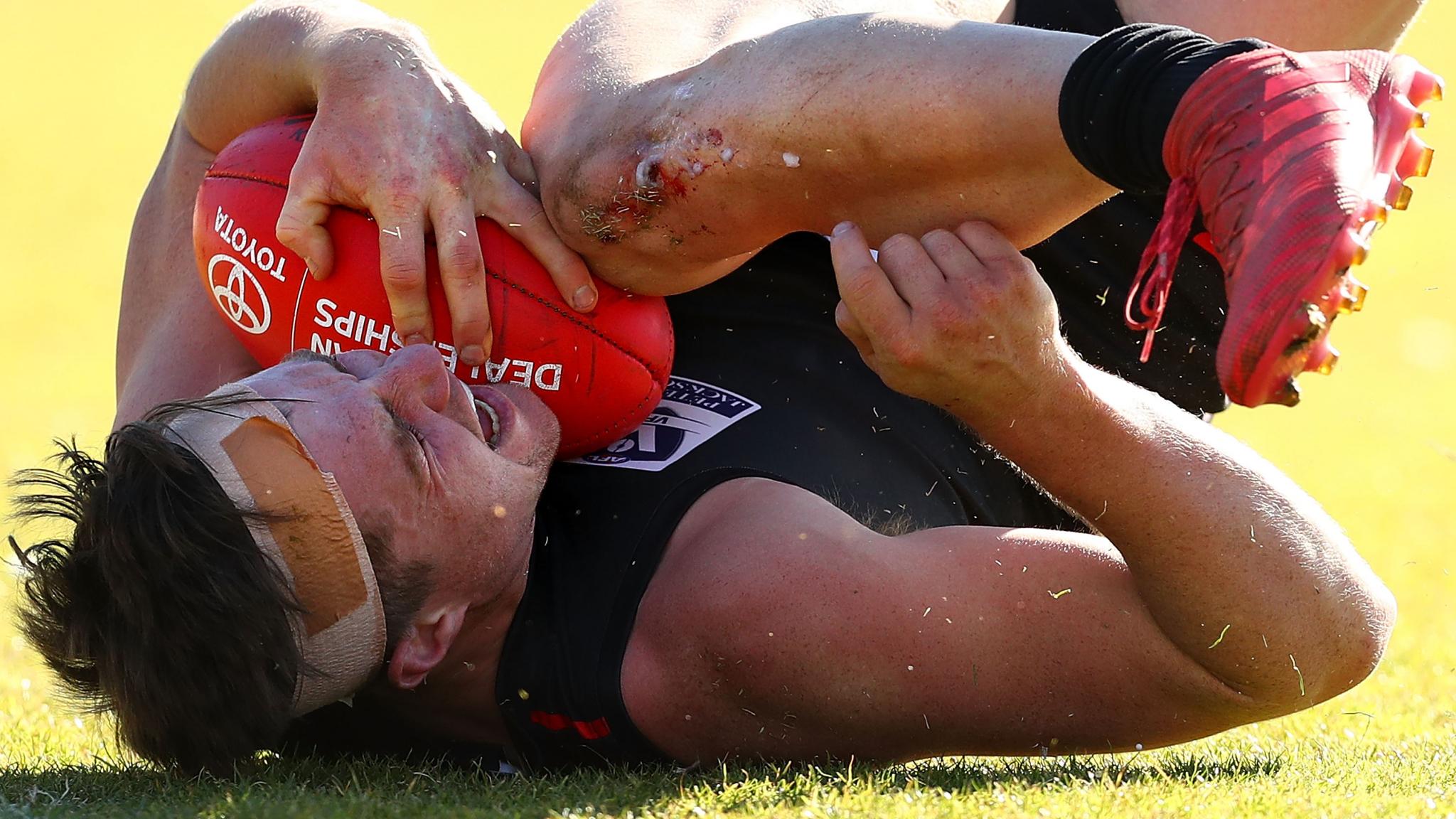 Hayden Sampson – South Adelaide (SANFL)
19yo, 177cm, 71kg
Playing as a high half-forward, the son of 1997 premiership Crow Clay tested at last year's National Draft Combine. 
Tyron Smallwood – Claremont (WAFL)
19yo, 179cm, 77kg
Played WA under-18s last year at the National Championships before playing two of his three League matches as finals. Has four goals from two games this year.  
Tyron Smallwood impressed in big games at the end of the WAFL season.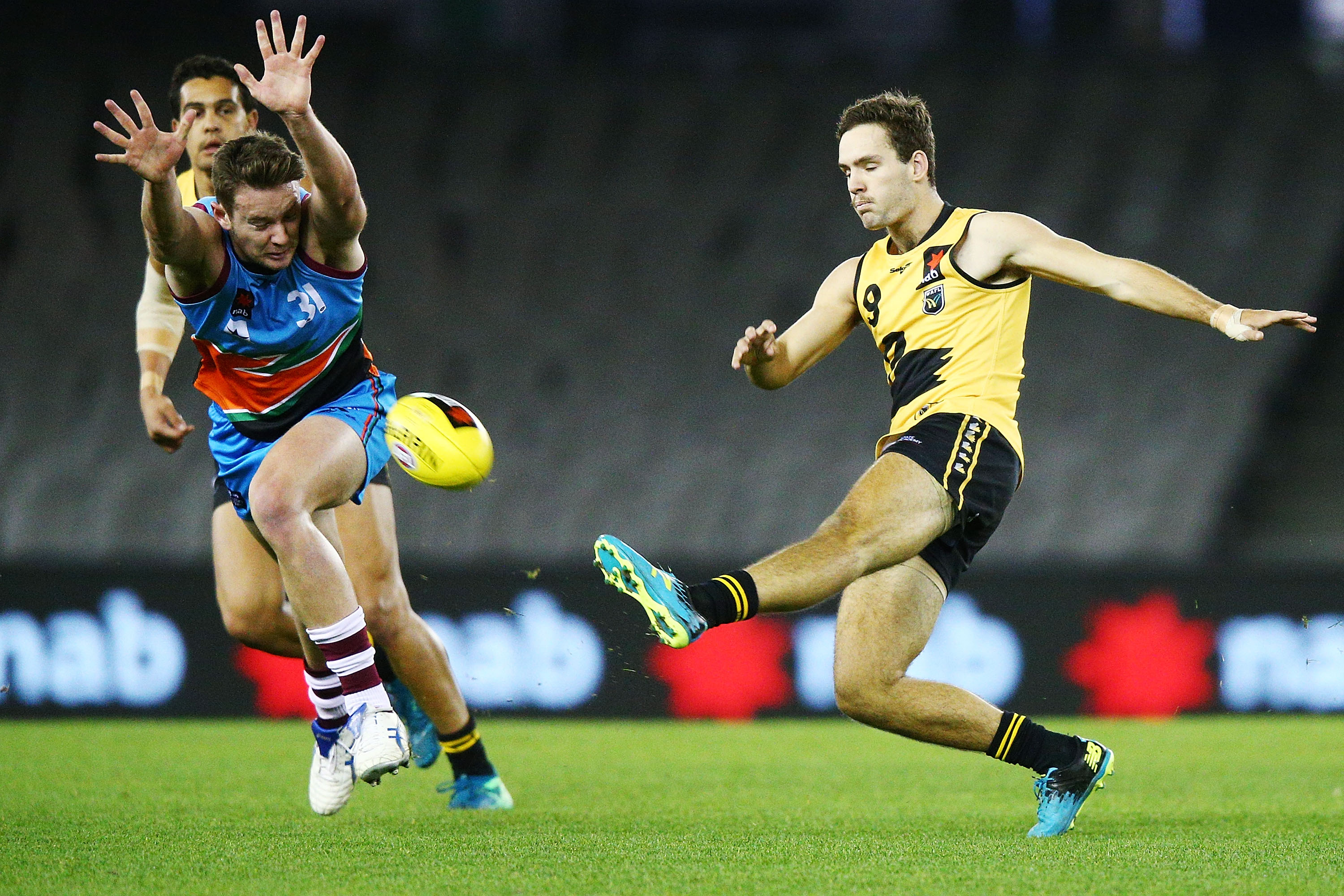 Adam Tipungwuti – NT Thunder (NEAFL)
22yo, 175cm, 65kg
Amid interest from GWS last year, the cousin of Essendon's Anthony McDonald-Tipungwuti trialled at the same Rookie Combine as AFL-listed pair Jay Lockhart and Ben Cavarra. 
General defenders 
Angus Baker – Canberra (NEAFL)
20yo, 191cm, 87kg 
Already picked up a NEAFL Rising Star nomination this season and continues to win a mountain of possessions across half-back. Trained with the Swans last year.
Campbell Floyd – Geelong (VFL)
23yo, 187cm, 74kg
The half-back attracted interest from Sydney last year and despite an ankle surgery this summer, has started 2019 strongly. 
Sydney showed some interest in Geelong VFL's Campbell Floyd last year. Picture: AFL Photos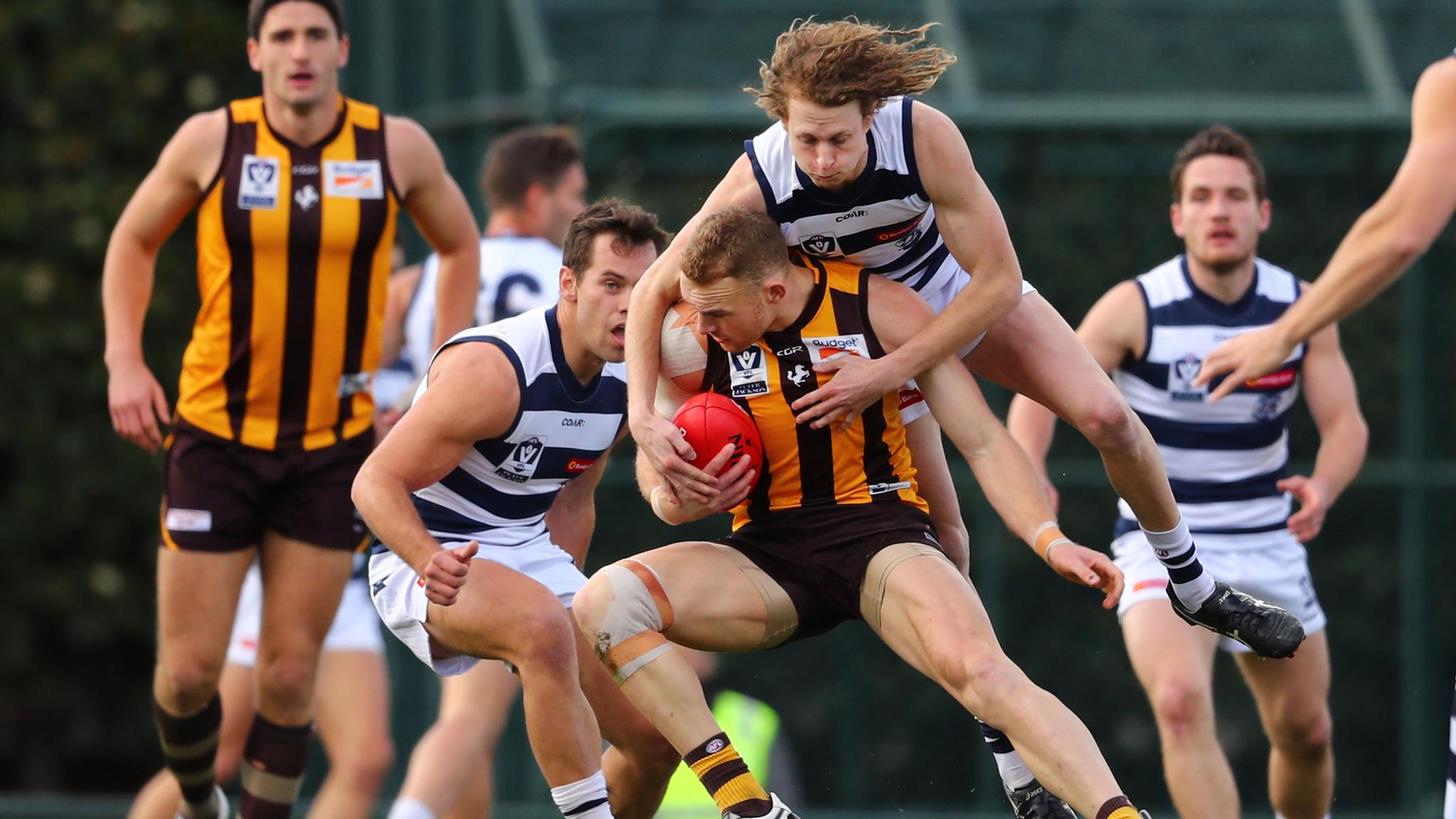 Ryan Hebron – Werribee (VFL)
21yo, 186cm, 82kg 
The one-time Swans Academy member is a versatile and quick left-footer who uses the ball well and is rarely beaten. Crossed from Sydney Uni.
Harry Marsh – Subiaco (WAFL)
25yo, 189cm, 86kg
Received interest ahead of last year's NAB AFL Draft following his delisting from the Swans. Subiaco's recent history of drafted players only helps his cause.
Declan Mountford – Claremont (WAFL) 
Back on the AFL radar after spending time at Arden St. Can play down back, on the wing or in a run-with role and has a big motor.
Former Kanga Declan Mountford is looking to shine in the WAFL.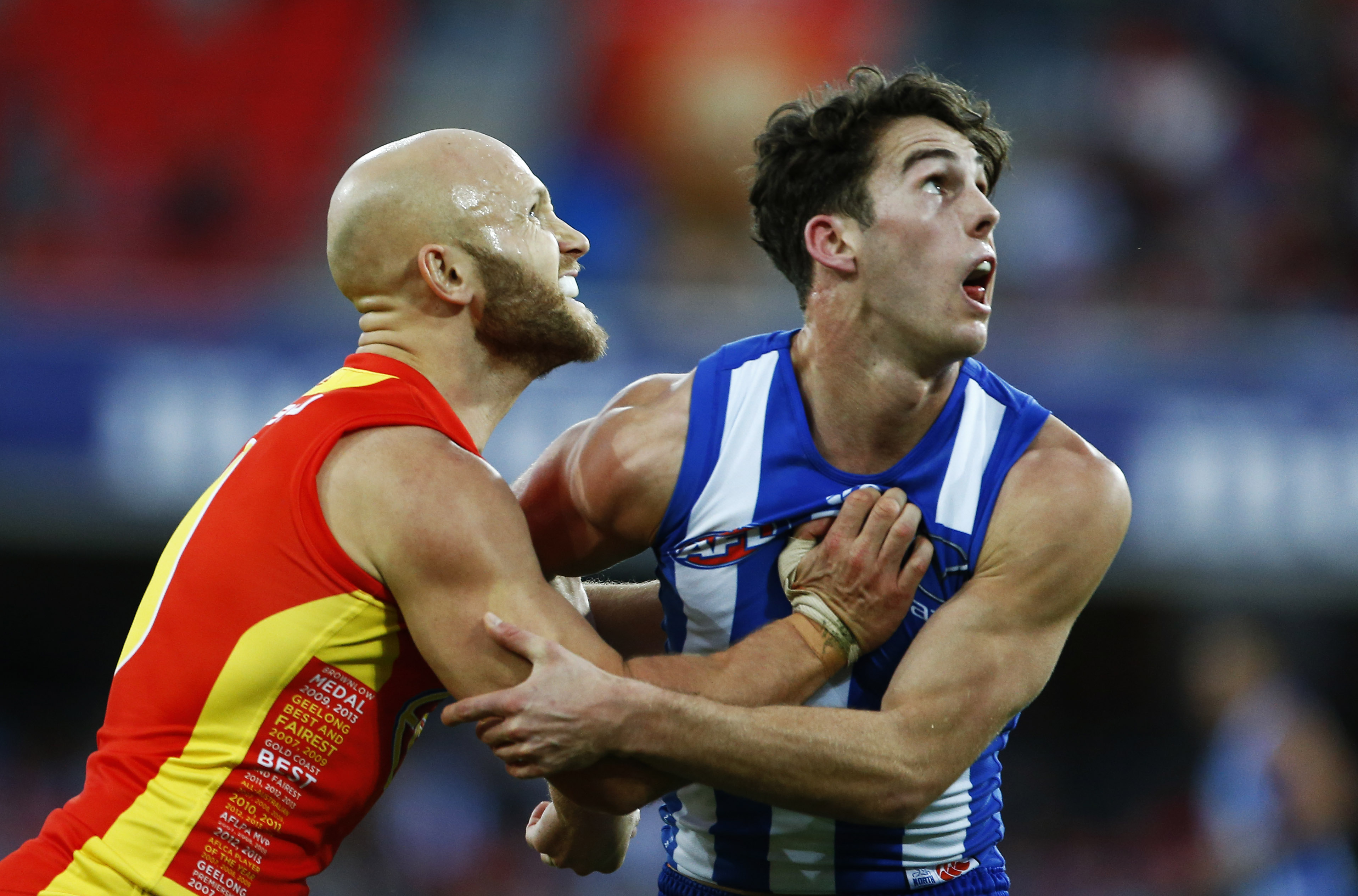 Bailey Rogers – Claremont (WAFL)
22yo, 185cm, 82kg 
Damaging half-back who draws comparisons to Adelaide interceptor Tom Doedee with his ability to read the ball.
Max Spencer – Werribee (VFL)
21yo, 186cm, 91kg
Departed Queensland after eight games for the Suns and is equally adept manning small and tall opponents